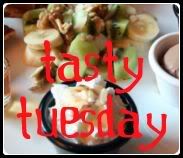 Hello all! Its Tasty Tuesday!! Here's a quick and easy recipe that makes a nice and moist burger. The black beans added a special something and we really enjoyed it. A sure way to sneak in some fiber for your lil ones. So go ahead and check it out =]
Big Black Bean Burgers
2 lbs. Ground beef (I used 80/20)
15 oz. can black beans, rinsed
1 small onion, chopped
1 small poblano, chopped
1 tbl. garlic, minced
1/2 cup breadcrumbs
1/8 cup bbq sauce
1 egg,optional.
1.Preheat oven to 400 degrees.(grill if you'd like too!)
2.In a bowl, mash black beans.
3.Add remaining ingredients, mix well!
4.Form 6-7 patties and place them in a shallow baking dish(I had mine on a cookie sheet and it was a bad idea.lol)
5. Bake in oven for 35-40 minutes.
Serve with warm toasted hamburger buns.
Quick Queso
1/2 cup Salsa
8oz. Shredded Mild Cheddar cheese.
1.Combine both ingredients together.In a microwavable dish, heat your cheese and salsa in a microwave until cheese is melted. about 2-3 minutes. Or if you're against the microwave. Use a saucepan and cook until melty delicious =]
Top your burgers with the Queso and enjoy!